William Ferguson Takes 2nd In 2020 Formula Pro USA F4 Western Championship
Oct 29, 2020 | News
During the previous two rounds at Laguna Seca, the rookie F4 William Ferguson, managed 2nd and 1st place finishes at the legendary track in Central California. This time around, the Exclusive Racing F4 Western Championship moved up to Thunderhill Raceway in northern California for the final race of the 2020 season.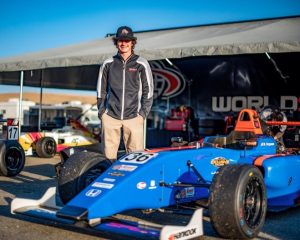 "Earlier this year, around the end of February, I was down in CalSpeed helping Austin Elliot, at SpeedSense Motorsports, develop a shifter kart program. At the time we were packing up, reflecting on the weekend and looking ahead to the Final race which was supposed to be at Sonoma. This was before Covid-19 however, and that was to be my last race for a few months. As we were packing up Austin came over to me and said I had been selected, along with a few other drivers, as a possible VMB Driver Development scholarship recipient. This was huge news and at the time was a great pick me up after just having my motor blow up in the main event. A little while later, after an interview with Steve Brisintine, Andy Brown and Telo Stewart I was chosen to be the VMB Driver Development 2020 scholarship recipient. This season VMB gave me an awesome opportunity and, along with World Speed, have been huge supporters every step of the way. With their support I've been able to gain a lot of experience in just 4 months of driving and I'm excited to see what else this opportunity brings me. Thank you all for the support this year, World Speed,VMB Driver Development and Chegg, Exclusive Racing, SpeedSense Motorsports, Race Karts!.inc, and GFC. Without all of your support I wouldn't be doing this well and even under the cloud of Covid-19, it's because of all of you that I am where I am now."
-William Ferguson
With a rough day of testing at Sonoma in the books, the young driver was looking forward to ending the 2020 season on a strong note. Ferguson showed strong pace right off the bat during Thursday's open practice as well as Courtney Crone and Cooper Becklin. With lots of changing conditions and time spent waiting for track clean up, the drivers were forced to adapt quickly, not only in between sessions, but during them as well. This would come in handy, for the difference between warm up and qualifying would be a brutal 6 hours come Friday.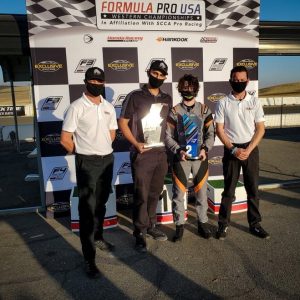 Qualifying looked to be quite interesting, with Crone and Becklin both having issues in warm up not a single advantage could be seen between them. The conditions were worse than expected come qualifying and the drivers had to make abrupt changes in their driving to make up for the adverse conditions. Whichever driver that was able to adapt the fastest would be the one to secure the pole position. William Ferguson was once again the quickest on track with Becklin second and Crone close behind in third.
With another long break between races, the drivers had plenty of time to gather themselves for the second race of the day. Starting in their qualifying spots Becklin and Crone were looking to get the jump on Ferguson. Nearly going around the outside of Ferguson in turn 1, Becklin, was not going to let him slip away. After battling their way through traffic the two drivers began duking it out and Becklin took the lead. Ferguson was pushing hard to stay on Becklins bumper, but he pushed just a little too hard rounding turn 2 and spun. Once he collected the car he managed to get back on track to bring it home in 3rd place. "Although it wasn't my strongest finish of the season," Ferguson claims, "I still had a lot of fun, was able to learn more from my mistakes and am super excited to take my knowledge into next season."
2020 has been a tough season for almost everyone in the racing industry. Even in karting Ferguson was only able to get a handful of races in this season and his first time in the F4 car wasn't until mid June, only a few weeks before his first race. However, even with a very limited amount of time in the car, the rookie was able to learn and adapt quickly, collecting a podium in every race he entered as well as 2nd place in the championship.
Coming into Saturday the drivers were expecting a close race with a hard battle to the finish. Rounding the first corner, Crone, got loose and collected another driver, this put both of them out of the race and left the battle between Ferguson and Becklin. Getting the jump on the green Ferguson was able to put some distance between himself and Becklin. After that the rookie continued to increase the gap until he took the checkered flag and his second win in a row.