SPIKE KOHLBECKER AND KIWI MOTORSPORT ADD WINS IN FORMULA PRO USA PRESENTED BY EXCLUSIVE RACING COMPETITION THIS PAST WEEKEND
Jun 9, 2020 | News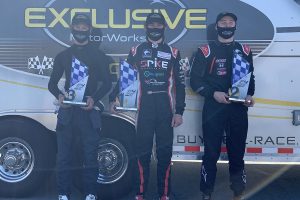 With an almost three-month delay between the first two event weekends of the year due to COVID-19, the Formula Pro USA Presented by Exclusive Racing program was back on track this past weekend at the WeatherTech Raceway Laguna Seca. Taking place in chamber of commerce weather, wheel-to-wheel action was the story of the weekend as teams and competitors overcame the new COVID-19 guidelines in their first event back.
"Everything went off without any issues," explained SK Morgan. "Teams and competitors practiced social distancing guidelines and everyone was wearing a face mask to prevent the potential spread of COVID-19. The racing was once again some of the best that we have seen as the competition level continues to rise in our program."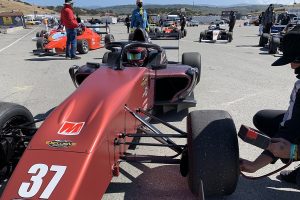 Spike Kohlbecker (Kiwi Motorsport) struck first on Saturday claiming the Formula Pro USA Presented by Exclusive Racing F4 win ahead of Spencer Bucknum (Black Sheep Racing). The Kiwi Motorsport driver drove to the win enroute to scoring the fastest lap of the race and two bonus points. Bijoy Garg (Competition Touring Cars) was able to find his place on the podium with a P3 effort while Ronan Murphy (Kiwi Motorsport) and Vincent Khristov (Kiwi Motorsport) rounded out the top-five. Point leader Will DeLaRosa had a trying day and in the end, garnered eight points to his championship total to retain the lead as a handful of drivers closed the gap while Khristov earned two bonus points for the day's Hard Charger award.
Sunday saw Kohlbecker earn his second victory in as many days in another maximum point effort as he once again earned two bonus points for the fastest lap of the race. Ronan Murphy made it a Kiwi Motorsport one – two finish climbing his way to the second step of the podium with Spencer Bucknum earning his second podium of the weekend with a P3 effort and the Hard Charger award earning him two extra bonus points. Will DeLaRosa crossed the line in the fourth position and garnered just enough points to hold the championship points lead by one point after four events. Saturday podium winner Bijoy Garg rounded out the top-five.
The Formula Pro USA Presented by Exclusive Racing F4 Point Standings after four rounds can be found HERE.
Jay Horak (Worldspeed Motorsports) racing in the Formula Pro USA Presented by Exclusive Racing FR event weekend took a pair of race wins, pole positions, fast lap honors and hard charger awards.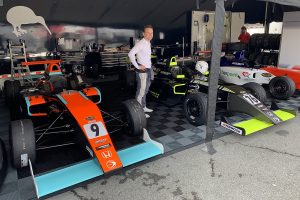 Morgan continued, "We invite each and every racer to our next event and even though we just got home from our most recent race, we are already planning and looking forward to rounds five and six."
Continuing to expand the Formula Pro USA and Exclusive Racing footprint via social media, series officials invite you to send all team and driver media releases and series related news to Media@ExclusiveRacing.com. Please keep text and photos separate, and we will try and ensure posting to our websites and social media pages.