RACING IS BACK…DE LA ROSA LOOKS TO RESUME WINNING WAYS AT LAGUNA SECA
Jun 5, 2020 | News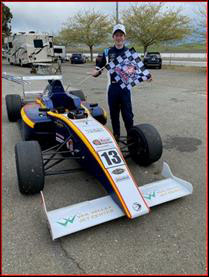 Racetrack:
WeatherTech Raceway Laguna Seca
2.258-mile road course, features 11 turns and 180 feet of elevation changes
Race: Saturday, June 6, 2020 at 4:20pm pst and Sunday, June 7th at 4:15 pm pst.
Live updates are available throughout the weekend on Will's Facebook: Will DeLaRosa or twitter: @WillDelarosa
Opening Sweep: Will De La Rosa swept the season opener at Thunder Hill Raceway with back-to-back victories from the pole position in early March.  Although De La Rosa and the Margraf Racing team were sidelined the last 11 weeks, they are still savoring the double victory and are anxious to take that momentum to WeatherTech Raceway Laguna Seca this weekend, "The last two months have felt like an eternity.  While safety and taking precautions needed to be the priority, it was torture! We were so anxious waiting for the season to start, then having such a successful first event and then we had to hit the brakes for COVID.  I think the last few months have given us all some time to learn and reflect on what is important, and what we can live with and without.  For me, I enjoyed the extra time with my family and the focus on training and I definitely realized racing is essential in my life!"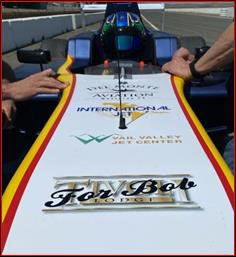 The Shortest Commute:   A native of Pebble Beach, California, De La Rosa lives just minutes from the famed Laguna Seca Raceway.  The paddock this weekend is closed to everyone but competitors and limited crew, so Will's partners, friends and family will not be able to attend, "My primary partner, Del Monte Aviation is the FBO located at the Monterey Peninsula Airport.  We had big plans to share this weekend with them and other guests, which we are unable to do now since it is a closed event.  While I am disappointed I will not be able to race in front of them, I will work my tail off to make sure I personally deliver a trophy to them on Monday and I am grateful we are able to be back racing!"
Racing for Bob: The racing community  lost a beloved member in April, Bob Lazier.  Will's partner, Tivoli Lodge is owned by the Lazier family," I am very sorry for the loss of our family friend, Bob Lazier. Bob has been a great source of inspiration to me. Much of my introduction to racing came from the Lazier family. Bob's passion for auto racing was contagious, and I will never forget how much he loved the Indy 500. His desire to always want to be competitive will be an example for me and other young drivers for years to come. Carrying the Tivoli Lodge logo is a great honor for me, and I dedicate the rest of my season to Bob."
Follow the action with live timing and scoring available on the RaceHero app.  Updates are available at www.WillDeLaRosa.com and on Will's social channels: T:@WillDeLaRosa and FB: Will De La Rosa I:Will.DeLaRosa.