Loh and Ferguson Secure Formula Pro USA Championships but Still a lot to Fight for Next Weekend
Oct 15, 2021 | News
"Thunderhill Raceway Park is the scene for the championship finale"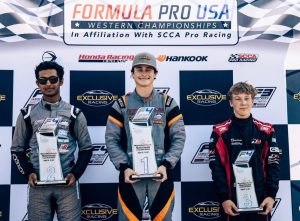 October 15, 2021 – With both the F4 and FR Pro Championships already locked up, the Formula Pro USA Championship will enter their final event of the 2021 season at Thunderhill Raceway Park. Taking place over the October 28 – 31 Halloween weekend, a team friendly schedule featuring a ton of track time will greet competitors as they aim to finish their season on a high.
"We congratulate both Will Ferguson and Kyle Loh for securing the F4 and FR Formula Pro USA Championship," explained SK Morgan. "They have had incredible seasons and were definitely the class of their respective divisions. We will officially crown them as series champions following the event on Saturday October 30th, but our Pro/Am Championship is still up for grabs and we can't wait to see how that finishes."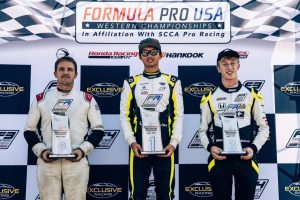 In a race weekend that will feature ample track time, Formula Pro USA competitors have the opportunity to test new drivers for the fast-approaching 2022 season or build momentum for next year's campaign. With bragging rights on the line to be the final Formula Pro USA winners of the current season, there is still a lot to play for in Willows, California.
Morgan continued, "Our 2022 schedule is nearly complete, and we will announce the official dates and locations soon but for now, our focus is our finale. We are challenging teams to fill their cars and support our program, but also to karters or series prospects to come check out our program. We will be on site throughout the event weekend to answer any questions and do introductions to competing teams."
Formula Pro USA Championship Finale
October 28 – 31 – Thunderhill Raceway Park
Register HERE
For more information on the Formula Pro USA F4 and FR Western Championships, please visit them online at www.FormulaProUSA.com or contact the series via email at Info@ExclusiveRacing.com. Also, be sure to follow Exclusive Racing on social media including Facebook, Instagram, Twitter, and YouTube.