Jay Horak Wins F3 Formula Pro USA Western Championship Presented by Exclusive Auctions
Nov 1, 2022 | News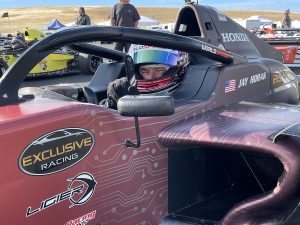 The 2022 Formula Pro USA Presented by Exclusive Auctions season is now complete and champions have now been crowned. With the F4 side of the season finishing last month with Jack Holmes the champion, the F3 Championship concluded this past weekend at Thunderhill Raceway Park with Jay Horak crowned the champion.
"The season is over, but we are already preparing for 2023," explained BD Morgan. "Congratulations to our series champions Jack and Jay, and we hope that they will rejoin us next season for another crack at some series titles."
World Speed Motorsports driver Jay Horak earned one win and two podium results this past weekend on the route to a pair of fast lap honors to score near maximum points to earn the title. With similar results, John Purcell, also racing out of the World Speed Motorsports claimed one win and a pair of podium results to earn Vice-Championship honors.
Horak was the driver to beat all season long earning seven race wins and fourteen podium results in fourteen races. Purcell finished just behind in the point chase on the strength of four wins and ten podium finishes as the two drivers were the class of the field to finish first and second in the championship battle.
Morgan added, "We will take a few days to rest, but 2023 starts for us now. We have both our Formula Pro USA Winter Series and Western Championship schedules almost complete and will be able to announce them in the near future.
A small demonstration race for F4 drivers was won by Alexander Cornfield at Thunderhill Raceway Park as he prepares for his 2023 season.
Stay tuned for more news coming from Exclusive Racing and Formula Pro USA.
Photos: Exclusive Racing