Jack Holmes Earns the F4 Formula Pro USA Western Championship
Sep 6, 2022 | News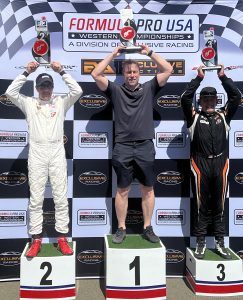 It was a barn burner of a finish to the Formula Pro USA Western Championships presented by Exclusive Auctions as Jack Holmes and Carson Etter battled tooth and nail for the series title. Each taking their turn on the top step of the podium and at the top of the championship points standings, it was Holmes who came out on top after the final checkered flag flew this past weekend.
"What an epic battle between two great drivers and two great teams," explained BD Morgan. "Both Jack and Carson have long careers ahead of them, and it was great to see them battle it out on track in the Formula Pro USA Western Championships. Compliments to both of their teams, World Speed Motorsports, and Dave Frietas Racing, for keeping their respective drivers in the fight until the very end."
Jack Holmes (World Speed Motorsports) got the edge in the penultimate round at the Sonoma Raceway on Saturday as he took top honors in the double-point race to earn fifty markers to his end of the year total. Carson Etter (Dave Frietas Racing) crossed the line in second, earning a total of thirty-six points plus an additional two for scoring the fastest lap of the race. Tallying up the points before the season's final race on Sunday, Etter would need a miracle to steal the title. Showing up to race and putting the pressure on his rival, Carson did exactly what was needed by scoring Sunday's race win and two bonus points, but Holmes followed closely in the second position garnering enough points to earn the title.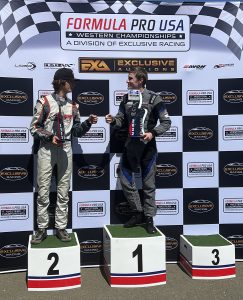 On the F3 side of the program, it was another weekend of dominance for Jay Horak as a pair of wins and a pair of fast laps gave him the maximum point haul over the two-day event. John Purcell was able to stand on the second step of the podium on Saturday while Sean Prewett took second place honors on Sunday to follow up on his P3 finish from Saturday. Dan Decker also made a podium appearance on Sunday finishing in the third position as all three drivers race out of the World Speed Motorsports stable.
With his point total and only one race remaining, Horak looks almost unbeatable for the Formula Pro USA Western Championship F3 title while John Purcell is a lock for P2. Only fifteen points total separate Decker and Prewett for P3 in the championship table while Nick Persing rounds out the top-five.
Morgan added, "While the F4 side of our season may be complete, we still have one more race weekend for our F3 drivers to officially crown a champion. In the meantime, we have begun preparations for our Formula Pro USA Winter Series and look forward to communicating more info about that program very soon."
Photos: Exclusive Racing