Formula Pro USA Western Championship Completes Rounds Seven and Eight at Thunderhill
Jun 22, 2022 | News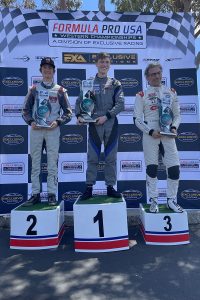 It was the fourth event weekend in the Formula Pro USA Western Championships Presented by Exclusive Auctions as the series completed rounds seven and eight at Thunderhill Raceway Park. In two races over the weekend there were two different winners as the series now shifts their focus to the famed WeatherTech Raceway Laguna Seca in Monterrey, California.
"Another Formula Pro USA Western Championship event is in the books and to have two different winners in our F3 class and two in F4 shows the true diversity and competitiveness of the West Coast program," explained BD Morgan. "We have a quick turnaround to the next one and look forward to seeing everyone again in less than two weeks."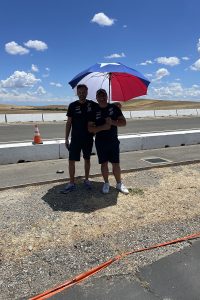 It was Jay Horak who would take home the race winning honors en route to the fastest race lap in the F3 class on Saturday as he was able to beat John Purcell and the rest of the field to the checkered flag. Sunday would see the two drivers swap spots and results as Purcell claimed the win and fastest lap as he took his second victory of the 2022 race season. On the F4 side of the program, Carson Etter earned fast lap honors in Saturday's wheel-to-wheel action, but it was Jack Holmes who would get to the checkered flag first and score the win. Etter would cross the line in second ahead of Alexander Cornfeld who stood on the podium in third ahead of Warren Stacy. Sunday was a great race with Etter and Holmes trading positions multiple times during the race but in the end, it was Etter making his way to the top of the results sheets scoring his second victory of 2022 as points leader Jack Holmes crossed the line in second and earned two bonus points for the fastest lap of the race. Cornfeld garnered his second third place podium result of the weekend just ahead of Stacy in fourth.
Morgan continued, "Our next event will provide competitors the opportunity to drive down the world-famous corkscrew. Be sure to get registered for our next event at Laguna Seca."
Register for Rounds 9 & 10 – Click HERE
The next round of the Formula Pro USA Championship Presented by Exclusive Auctions takes place July 1-3 at the WeatherTech Raceway Laguna Seca. More information and registration for the can be found at www.FormulaProUSA.com.
For more information on the Formula Pro USA Western Championships, please visit them online at www.FormulaProUSA.com or contact the series via email at Info@ExclusiveRacing.com. Also, be sure to follow Exclusive Racing on social media including Facebook, Instagram, Twitter, and YouTube.
Photos: Exclusive Racing