Formula Pro USA Championship Sees Rookie Winner in FR as Two Different Drivers Top the Podium in F4
Mar 22, 2021 | News
"Loh dominates FR as Ferguson and Kacic win in F4"
 March 22, 2021 – It was the first event of the Formula Pro USA (FPUSA) Western Championship this past weekend as F4 and FR drivers battled not only each other but the challenging Thunderhill Raceway Park. While the F4 grid provided two different winners and a tie on the overall point standings leaving the first event weekend, one driver swept the FR portion of the event in his rookie start as he sets his sights on the series title.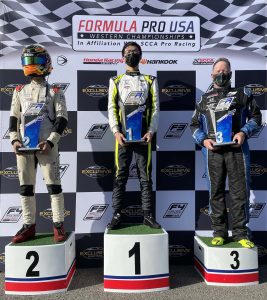 "It was a great start to our season, and it was good to see all of our teams and competitors once again," explained SK Morgan. "The F4 class was very competitive and provided some great racing action with two former winners scoring their first race wins of the 2021 season. Congrats to both Marco Kacic and William Ferguson. An additional congratulatory note needs to go out to double race winner and FR rookie Kyle Loh for his weekend sweep in his first career FR start."
Ferguson would score the round one F4 pole position and convert that inside front row starting spot in a race win on Saturday afternoon for his Worldspeed Motorsports program. 2019 Series Champion and Doran Motorsports Group (DMG) driver Marco Kacic would finish second on route to the fastest lap of the race as Athreya Ramanan put two DMG drivers on the podium with a third-place effort. John Holms, racing for Worldspeed Motorsports and DFR'S Conner Martell would round out the top five. Returning to the track on Sunday, Kacic would outpace Ferguson to the checkered flag to score his first race win of 2021 as Conner Martell would join the pair on the podium in third. Athreya Ramanan would end his weekend in fourth just ahead of John Holms in fifth. William Ferguson scored the fastest lap in race two and the accompanying bonus points as he and Marco Kacic matched one another on the results sheets and leave the first event weekend with forty-five points each.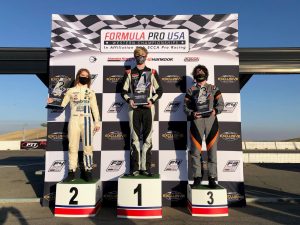 In the FR portion of the Formula Pro USA Western Championship, it was all Kyle Loh and World Speed Motorsports. Making his series debut in the class the Rookie driver swept the weekend. Familiar with the Formula Pro USA program courtesy of his experience in the F4 ranks, Loh secured the pole position and race wins on both Saturday and Sunday. Loh also secured one fast lap honors to leave the first event of 2021 with a nineteen-point advantage over his next closest competitor. 2020 Series Champion Jay Horak was able to cross the line second on Saturday on route to earning the two bonus points for the fastest race lap as LA Prep's Alex Kirby finish third, just ahead of Margraf Racing's Scott Vreeland and Worldspeed Motorsport's Sean Prewett. Sunday saw Loh at the top of the results sheet ahead of Kirby and Vreeland who joined him on the podium.
Morgan continued, "We have a two-month break before our next event as the national series begins their program. We look forward to returning to WeatherTech Raceway Laguna Seca during the third weekend in May for rounds three and four and we hope to see you there too."
Please stay tuned to the Formula Pro USA website and social media pages for registration and event information.
The remainder of the 2021 Formula Pro USA Schedule
May 28 – 30 – Rounds 3 and 4 – WeatherTech Raceway Laguna Seca
June 18 – 2 – Rounds 5 and 6 – Sonoma Raceway
July 22 – 25 – Rounds 7 and 8 – Portland International Raceway
August 28 – 29 – Rounds 9 and 10 – WeatherTech Raceway Laguna Seca
November 12 – 14 – Rounds 11 and 12 – Buttonwillow Raceway Park New Track
For more information on the Formula Pro USA F3 and F4 Western Championship, please visit them online at www.formulaprousa.com or contact the series via email at Info@ExclusiveRacing.com. Also, be sure to follow Exclusive Racing on social media including Facebook, Instagram, Twitter, and YouTube.