FORMULA PRO USA CHAMPIONSHIP PRESENTED BY EXCLUSIVE SEES BUCKNUM AND FERGUSON TOP THE PODIUM AT LAGUNA SECA
Aug 3, 2020 | News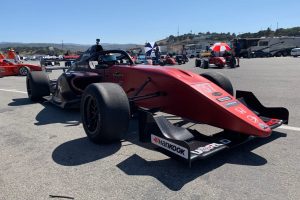 Pushing forward with their 2020 calendar, the Formula Pro USA Championship Presented by Exclusive Racing completed their seventh and eighth rounds of the season this past weekend. Taking on the famed WeatherTech Raceway Laguna Seca, Jay Horak, William Ferguson, Cooper Becklin and Spencer Bucknum all stood atop the Formula Pro USA podium as Horak and Bucknum both extended their championship point leads with four races remaining.
Leading the way in the first wheel-to-wheel action on the weekend, William Ferguson found his way to the top step of the podium in round seven. Taking the lead and scoring the win by 5.517, Ferguson gained three positions to also secure the Hard Charger Award for round seven. Cooper Becklin gained one position to finish second while championship point leader Spencer Bucknum finished third but scored the fastest lap of the race and accompanying pole position for round eight. Courtney Crone added her name to the top-five finishing fourth with Lane Vacala in fifth. Jay Horak drove to victory in the FR competition.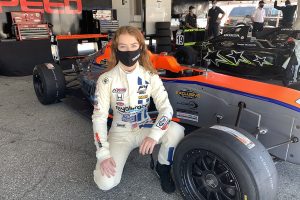 "Round seven was a terrific display of driving for all of our F4 competitors and a huge congratulations to William on his victory," explained Exclusive Racing's SK Morgan. "We welcomed some new faces to the grid this weekend, and we hope to see the likes of Courtney Crone and Lane Vacala at future events."
Spencer Bucknum returned to his winning ways in round eight leading from flag-to-flag to add another win to his growing resume. Along with the victory, Bucknum also garnered the fastest lap in round eight. William Ferguson made his second trip to the podium in as many races finishing second in round eight. Cooper Becklin also secured his second podium finish of the day with another impressive third place effort as Courtney Crone and Lane Vacala again rounded out the top-five. Ferguson gained two positions over the course of the twenty-two-lap race to be named the race's Hard Charger while Jay Horak again was the winner in the FR division.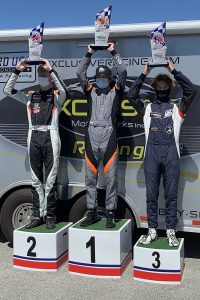 Morgan continued, "We have two more event weekends for a total of four races remaining, and we are looking to continue the momentum from our summer series straight into our winter program. We are inviting all teams, drivers, anyone and everyone to come and check out our program and see the value that we can bring. Our last two events are at Laguna Seca and Thunderhill, both primary tracks in California and some of the state's, if not the country's, best. We hope to see you there!"
Remainder of the 2020 Formula Pro USA Presented by Exclusive Racing Summer Series:
WeatherTech Raceway Laguna Seca – August 29-30
Thunderhill Raceway Park – October 23-25
**Due to COVID-19, schedule is subject to change
Stay tuned for information about the 2021 Formula Pro USA Presented by Exclusive Racing Winter Series coming soon!
Continuing to expand the Formula Pro USA and Exclusive Racing footprint via social media, series officials invite you to send all team and driver media releases and series related news to Media@ExclusiveRacing.com. Please keep text and photos separate, and we will try and ensure posting to our websites and social media pages.
Photos: Exclusive Racing