COURTNEY CRONE AND WILLIAM FERGUSON WIN F4 WHILE JAY HORAK IS ON TOP IN FR
Aug 31, 2020 | News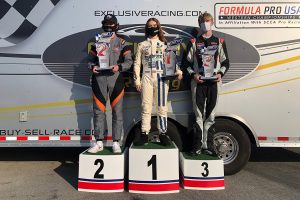 With the penultimate round of the Formula Pro USA Championship Presented by Exclusive Racing completed this past weekend, only two races remain before official series champions can be crowned. Competing at the famed Weathertech Raceway Laguna Seca, one of the largest F4 grids of the season would battle wheel-to-wheel as two different winners emerged. Female driver Courtney Crone topped the podium blocks on Saturday while William Ferguson returned to his familiar position on the top step on Sunday. Jay Horak went on to claim both FR victories.
"What a great weekend," explained Exclusive Racing's SK Morgan. "We had several new drivers join our program as they all gained race experience for the future. The Formula Pro USA efforts allow drivers of every skill level to join us. It is a great training ground for all and a low stress race environment. A huge congratulations to our winners from this weekend and thank you to all for your continued support."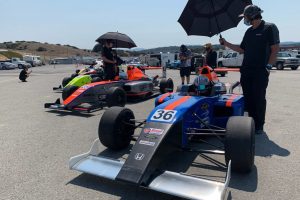 Teams and competitors got down to business on Saturday with qualifying and the first wheel-to-wheel action of the weekend. Ferguson would set the mark early with a blistering lap in qualifying to take the top spot by .412 over Courtney Crone. Cooper Becklin's time slotted him into the third position while championship points leader Spencer Bucknum was on the outside of row four, an unfamiliar position for him based on his success so far in 2020. Harindra De Silva rounded out the top-five in fifth while Jack Holmes and Amanda Cartier were sixth and seventh respectively.
It would be Crone who got the best of the F4 field on Saturday's round nine of the Formula Pro USA Championship Presented by Exclusive Racing as she saved her fastest lap for the last lap of the race to take the victory by a scant .481 over Ferguson. Becklin continued his string of podium appearances maintaining his third place starting spot to finish third while De Silva managed to level up one spot to cross the line in fourth just ahead of Holmes.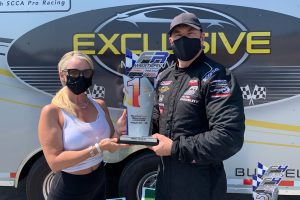 With best times from race one or previous qualifying setting the grid positions for race two, Ferguson would be the point man and lead the field to green on Sunday. Holding his position at the front of the field despite heavy pressure from Bucknum, Ferguson went on to take the round ten victory as Bucknum advanced forward from his fourth place starting position to finish second. Courtney Crone garnered her second podium result of the weekend with a solid third place effort as the top three drivers' fastest race laps were all within one tenth of a second. Copper Becklin fell one position from his third place starting spot to finish fourth while Jack Holmes moved forward one to finish fifth.
Morgan continued, "The competitiveness of the front of our field is something else. For the most part, our drivers race hard and clean. Our structure provides a lot of green flag laps to ensure drivers can improve and that is evident with the lap times of our newer drivers as well as the close racing by our more experienced competitors."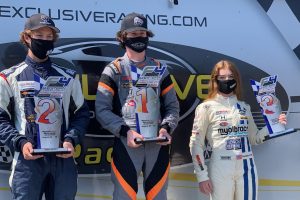 In the FR class, Jay Horak went on to sweep the weekend as he took the class win and overall victory on both Saturday and Sunday as well as fast lap honors and pole positions in both races.
With one event weekend remaining, Spencer Bucknum is atop of the F4 point standings while Jay Horak tops the FR standings. With both drivers showing great speed and success throughout the year, they have both secured enough points to claim the series championship with two races remaining. Behind Bucknum, William Ferguson sits second, only 24 markers ahead of Cooper Becklin as the duo will battle it out at the remaining round for Vice Championship honors.
Remainder of the 2020 Formula Pro USA Presented by Exclusive Racing Summer Series:
Thunderhill Raceway Park – October 23-25
**Due to COVID-19, schedule is subject to change
Stay tuned for information about the 2021 Formula Pro USA Presented by Exclusive Racing Winter Series coming soon!
Continuing to expand the Formula Pro USA and Exclusive Racing footprint via social media, series officials invite you to send all team and driver media releases and series related news to Media@ExclusiveRacing.com. Please keep text and photos separate, and we will try and ensure posting to our websites and social media pages.
Photos: Exclusive Racing