Champions Crowned at the Formula Pro USA Western Championships
Oct 17, 2023 | News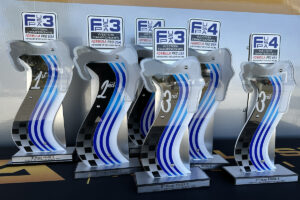 The 2023 Formula Pro USA Western Championships Presented by Exclusive Racing season came to a close this past weekend at the Buttonwillow Raceway. With two final wheel-to-wheel races in both F3 and F4, race winners were crowned and the end-of-the-year championships were earned with the accolades going to Nicole Havrda in the F3 class and Dimitri Pistoliako in the F4 ranks.
"It was a great season of racing, and congratulations to our race winners and champions but we will have little time off before we start again," explained BD Morgan. "Our Formula Pro USA Winter Series will kick off in early 2024, and we look forward getting back into action with some exciting new programs."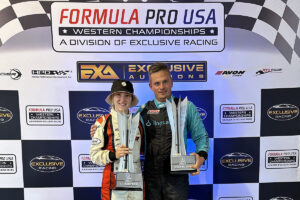 With two final races, the F3 class wins were split between Jay Horak and Nicol Havrda, coincidentally both drivers finished one–two in the championship. Horak took the win on Saturday with his World Speed Motorsports teammate Larry Schnur crossing the line in second. Havrda stood on the third step of the podium but earned two bonus points for the fastest lap of the race with Jett Bowling finishing fourth. Sunday saw Havrda return to her familiar position on the top step of the podium, finishing the last wheel-to-wheel race of the season victorious along with the bonus points for the fastest race lap thus sealing the 2023 Championship. Horak and Schnur stood on the podium in second and third as all three drivers earned a pair of podiums on the weekend.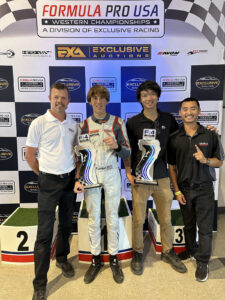 Courtesy of her strong season, race wins, constant speed, and podium results, Nicole Havrda was crowned the Formula Pro USA F3 Western Champion.
On the F4 side of the program, it was a double win for Preston Lambert, as he was the dominant driver on the weekend. Behind him Dimitri Pistoliako finished on the second step of the podium as both drivers battled closely both races, splitting fast lap honors with Lambert earning the bonus points on Saturday and Pistoliako on Sunday. Barrett Wolfe made his series debut this weekend and started with a podium result on Saturday finishing third, just ahead of Alexander Cornfield and Emely De Heus. Sunday saw Lambert and Pistoliako in the top-two positions as they were joined by Cornfield on the podium in third, with Wolfe and De Heus rounding out the top-five.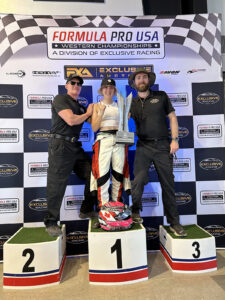 With a solid season that included numerous race wins and podium finishes, Dimitri Pistoliako was crowned the Formula Pro USA F4 Western Champion.
With the 2023 season in the books, plans for the 2024 campaign are already underway, with a schedule to be announced in the coming weeks.
Check out www.FormulaProUSA.com and the Exclusive Racing social media pages for all the updates, news, and information regarding to yet to be announced 2024 Formula Pro USA Western Championships and Formula Pro USA Winter Series.
Photos: Exclusive Racing