Alex Kirby and Jack Zheng Double Up at Formula Pro USA Winter Series Opener
Feb 7, 2022 | News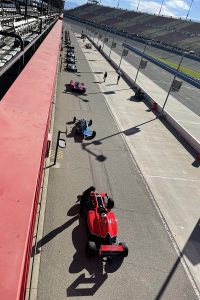 It was the opening weekend of the Formula Pro USA (FPUSA) Winter Series brought to you by Exclusive Racing and presented by Exclusive Auctions, Avon Tyres, Ligier North America and powered by Honda. The season opening event saw a pair of victories for both Alex Kirby and Jack Zheng. Taking place at the famed Auto Club Speedway, Kirby and Zheng put an exclamation mark on the weekend as they solidified their speed with results to emerge as 2022 Winter Series championship contenders.
"It is always great to start a new year of racing," expressed Formula Pro USA Promoter David Morgan. "A huge congrats to Jack Zheng and Alex Kirby on their victories but also to all the Formula Pro USA competitors. The competition was fierce in the F4 arena with a lot of passing and though Jack walked away with two victories, it was Oliver Westling who scored the fastest race lap in both races to keep the points battle close."
Racing out of the Doran-Kroll Competition (DKC) camp, Zheng was the head of the class in the F4 field once wheel-to-wheel racing began. Earning the pole position for the first race with a blistering lap of 1:45.295, Zheng would lead the field to green on Saturday afternoon. Taking advantage of his inside row starting position, the DKC driver drove to the victory ahead of Jensen Global Advisors competitor Oliver Westling. The Jensen outfit put a pair of drivers on the podium with Jake Nelson earning the third step on the podium blocks, just ahead of Dave Freitas Racing driver Carson Etter. While Zheng was able to take the twenty-five points for the race win, it was Westling who scored eighteen markers for finishing second but also claimed the two bonus points for the fastest race lap.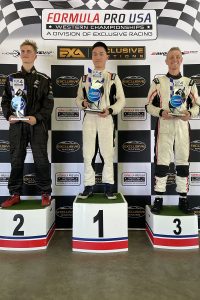 Sunday would see much of the same amongst the F4 drivers as Zheng once again took the pole position and scored his second race win in as many days. With the top four drivers finishing in the same positions as they did on Saturday, race two featured a ton of passing as competitors were forced to slice and dice their way through the field and battle for podium positions. Again, it was Westling who earned the fastest race lap honors and two bonus points for his efforts. On the F3 side of the program, it was Alex Kirby and LA Prep who scored the round one and two victories throwing down a fastest lap of the weekend of a 1:34.8 in his Ligier JS F3.
Morgan added, "We have already shifted our focus to the second round of our winter program and look forward to seeing an increase in teams and competitors at one of California's premier facilities, Sonoma Raceway. If you are thinking about a move to F4 or F3 and want to do it at an affordable rate, contact us today and we will assist you in getting on track with one of the race teams that support our programs."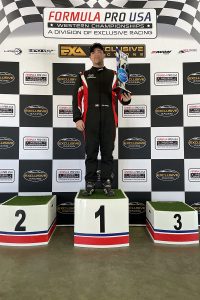 Up Next: Formula Pro USA Winter Series Round 3 & 4 at Sonoma Raceway – February 25 – 27
Registration is open – Click HERE
2022 Formula Pro USA Winter Series Schedule
February 25-27 – Sonoma Raceway
*Each event weekend consists of two rounds of racing
**There are no drop races for the Winter Series
Stay tuned for more information from the Formula Pro USA Western Championship in the coming weeks.