Alex Kirby and Jack Zheng Claim Formula Pro USA Winter Series Championships
Feb 28, 2022 | News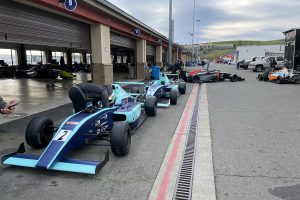 With the two event Formula Pro USA Championship Presented by Exclusive Racing ending, Jack Zheng and Alex Kirby earned their first championships of the 2022 season. While both drivers earned race wins in rounds one and two, this past weekend provided a different challenge that saw them attain a few podium results, but enough points to claim series championships.
"What a great race weekend and a great close to the Winter Series program," explained David Morgan. "We welcomed some new drivers to our series this weekend, and they were rewarded with race wins and podium finishes. It is always great to have an increased level of competition, especially with the Summer Season just around the corner."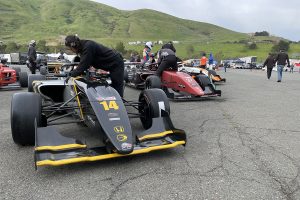 It was the Crosslink Kiwi Motorsport program that dominated the F4 ranks as Ryan Shehan and Bryson Morris were both able to pick up their first ever Formula Pro USA victories. After earning the pole position on Saturday, Shehan led teammate Bryson Morris and series champion Jack Zheng from Doran-Kroll Competition. Sunday would see Bryson Morris top the podium with Shehan in second and Zheng in third. Morris went on to claim the fastest lap in both races.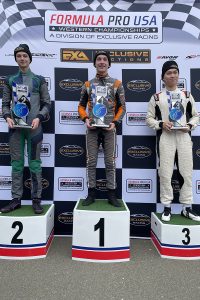 On the F3 side it was Cameron Racing's Nick Persing who scored a pair of race wins and dominated the weekend. En route to his victories, Persing claimed two bonus points in each race scoring the fastest race laps. Despite being late to the grid in race two and forced to start from the 25th position, Persing rocketed his way to the front to top the podium blocks. Crosslink Kiwi Motorsport's Ryan Yardley was the best of the rest scoring a pair of second place results while LA Prep's Alex Kirby finished third on Saturday before Cooper Becklin found his way to the podium on Sunday. With the F3 field split between Pro and Pro/Am, Jay Horak was the best Pro/Am driver on both Saturday and Sunday.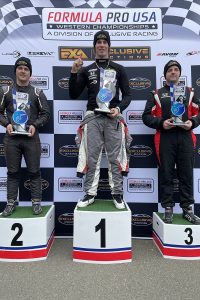 In the final championship standings, Jack Zheng earned the F4 title ahead of Oliver Westling and Jake Nelson while Alex Kirby was the best in F3 ahead of Nick Persing and Ryan Yardley.
"Congrats to all of our race winners, podium winners, and series champions," added Morgan. "With the Winter Series now done, we will now shift our focus to our summer series and can't wait to get that started in just a few short weeks."
Stay tuned for more information from the Formula Pro USA Western Championship in the coming weeks.
Photos: Exclusive Racing